KCEB Calendar
News
Election Equipment
Voting Equipment
In early 2018, the Kansas City Board of Elections purchased all new election equipment from Election Systems & Software (ES&S). The decision of which vendor and model to choose was made after several public and private demonstrations; feedback from the community and KCEB staff was heavily weighed.
DS200 Ballot Reader
All Kansas City polls within Jackson County will now be equipped with a DS200 ballot reader. The DS200 scans each ballot, whether marked by hand or by the ExpressVote electronic ballot marking device, and tallies the totals. The unit keeps all read ballots securely locked inside. From the vendor's website:
The DS200 is a precinct-based scanner and vote tabulator equipped with the latest in ES&S' patented technology. Fully certified and compliant with EAC guidelines, the DS200 enhances the voting experience for voters and election officials alike. Our patented IMR® and PTRAC® technology software ensures even the most poorly marked ballots are read accurately and consistently - protecting voter intent. All of this is designed to make everyone's job easier.
ExpressVote Ballot Marking Device
Visually impaired voters, disabled voters, and other voters who prefer to mark their ballot electronically will be able to use the ExpressVote ballot marking device. The ExpressVote allows voters to make their selections on a touch screen which then prints out a completed ballot. This ballot is then fed into the DS200, which reads and counts the votes. The ExpressVote machine is equipped with headphones, a braille keypad, and adjustable screen brightness / font size in order to accommodate all voters. From the vendor's website:
As a marker, the ExpressVote handles the entire marking process, eliminating marginal marks and the need for voter mark interpretation. Voters utilize the touch screen to mark their vote selections, receiving a verifiable paper vote record upon completion. Used in early vote centers and on Election Day in precincts or vote centers, the ExpressVote can serve every eligible voter, including those with special needs.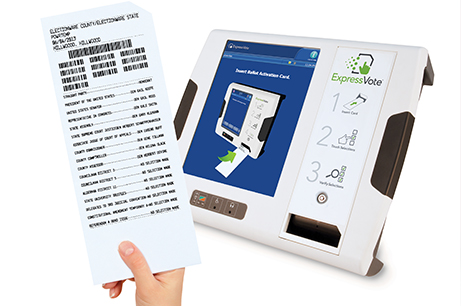 Both the DS200 and ExpressVote machines feature a paper trail, which was required by the Missouri Secretary of State prior to being certified for use in Missouri.
Voter Check-in System: New Electronic Poll Books (Poll Pads®)
In 2017, KCEB replaced the existing model of electronic poll roster books with a brand new version. Poll Pads®, purchased from KnowInk, feature state-of-the-art software installed onto iPads. They seamlessly and quickly locate voters in the poll registry, verify ID (in accordance with MO Law), and process the voter so that s/he may vote. The Poll Pads® are connected to wireless printers that print out a ticket receipt for each voter upon check-in. These "voter tickets" contain the voter's name and precinct information, and they are then presented at the ballot table or touch screen machine (ExpressVote ballot marking device) so that the voter may vote.
The Poll Pads® are able to locate a voter's correct polling location, directions to which may be either printed out or sent directly to the voter via email or text.
The Poll Pad® software is programmed to automatically produce the "Option 2 ID Statement" for any voter who presents an "Option 2" form of voter ID (non-photo ID or out-of-state/expired licenses) according to MO Voter ID Law (HB 1631). The voter will be prompted to sign the statement on the Poll Pad® in lieu of a paper copy.